Entrepreneurs are always on the prowl for new ideas!
Entrepreneurs are a special breed. They always think about the opportunities in front of them and craft potentially world-changing ideas. Entrepreneurs are constantly thinking about how things can be done better and more efficient. This is what makes most of them tick.
Following that line of thinking, it's important that you are constantly expanding your knowledge while honing your skills. Most of the successful business owners George Black meets, are always reading their next great book! So, the question becomes:
Where does one start?
What are the best books for entrepreneurs? George Black thinks of great entrepreneurial books a little differently than what you may have seen before. 
Here are his top 6 books for entrepreneurs in no particular order:
Dear Mr. A ~ letters revealing the secrets of an entrepreneur ~ George Black
For every business person who wants to reach their Next Level.
Dear Mr. A tells the story of Max, a young entrepreneur just starting out. Mr. A uses his sage-like wisdom to mentor Max, ultimately guiding him through The Next Level Navigator TM . This is the core strategy process used by Intigro to help any company take their business to their Next Level. The beauty of this book is the exercises sprinkled between letters that will mentor the reader, as well. If you want to take your business to The Next Level, this definitely should be the first book on your list.
Click Here To Learn More About This Book
Good To Great ~ Jim Collins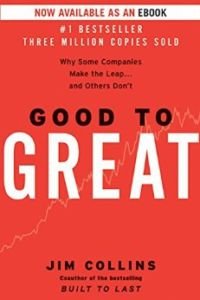 Contains key business principles every entrepreneur should follow.
Good To Great pairs 11 companies and their competitors over a course of 15 years. While the good companies had sustained results, the great companies had far more than normal growth. The theory was that out of these 11 pairings, the great companies all had things in common about how they approached business. By using the good companies as a measuring stick, Jim Collins is able to ascertain what commonalities among the great companies caused them to experience abnormal growth over the period. These commonalities are timeless principles. This book is full of insightful ideas that will help entrepreneurs take their own company from good to great!
Click Here To Learn More About This Book
The Legend Of Bagger Vance ~ Steven Pressfield
Discover and unlock the success that's hidden inside you.
This is a fantastic book that often gets overlooked in lists of best entrepreneur books! The Legend of Bagger Vance tells the story of a mysterious, charismatic, sage of a caddie that guides an historic golf match between two legends of the game, as well as a third who is a troubled local war hero and former champion. This legendary tournament spans 36 holes! Baggar Vance is the only one that can lead his protege, the war hero, back to glory. Read this book, and let Baggar do the same for you. If you want to discover your truest self and "play the game you was meant to play", then this is the book for you.
Click Here To Find Out More About This Book
Patton on Leadership ~ Alan Axelrod, PhD
Applying the best of the general's leadership principles to everday business situations.
General George Patton is arguably one of the most recognizable and successful leaders of the 20th century. There is a good reason for this! This text takes a look at his leadership precepts and why they are still applicable today. Timeless jewels that, when followed properly, will take you to the pinnacle of great leadership without all the Patton bluster!
Click Here To Find Out More About This Book
The Ultimate Question 2.0 ~ Fred Reichheld
You only need 1 question to survey every customer and this is it!
In version 1.0 of The Ultimate Question, Fred Reichheld examines the Net Promoter Score. It is all about asking the question of "Would you recommend us to a friend?" Based on the response, you can tell whether that person has had an experience with your company that would make them a Promoter of your brand or a Detractor of your brand. In this updated version, Net Promoter Score (NPS) is reexamined with compelling stories of companies that have transformed their performance by putting NPS at the center of their business. If you want to transform the client experience for your business and generate more referrals, this book is for you.
StrengthsFinder 2.0 ~ Tom Rath
Identify your strengths and all those who work with you and what it all means and apply it.
Different people have different combinations of strengths. In order to leverage yourself, as well as your team's strengths, you have to know what they are. StrengthsFinder 2.0 is all about finding people's natural strengths and uncover their talents. This book can be read in one sitting, however, it will quickly become a timeless reference on your bookshelf. In addition to identifying strengths, it is imperative to have actionable intelligence on how to apply those strengths to increase results. StrengthsFinder 2.0 is loaded with hundreds of strategies for applying your strengths. If you are looking to maximize productivity by understanding yourself, as well as your team's strengths and how to apply them to your company, this is the book for you.
Get This Book On Amazon
What are your top 6 books for entreprenuers? Let us know in the comments below!
We love stories and would like to hear from you!
Obviously, there are no guarantees of success; however, if you do the above, your chances for success are improved.
If you are considering launching a business or growing your ongoing company, check out Dear Mr. A for creating a strategy around your passions. The Next Level Navigator strategy process is a great crowdfunding tool! Click here to look inside Dear Mr. A.
Why not tell us about how you balance work life? Please do so, either in the comments below or by submitting a guest post to us. We review these posts carefully, and as long as your contribution adds something to the entrepreneurial community we'd be happy to feature it on our site with a link back to yours!