Contributed by Shaun Lee, Founder and President of Truckin' Tomato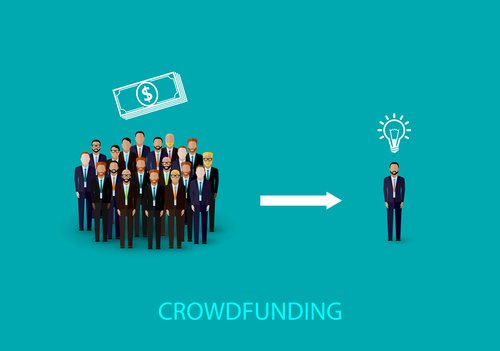 Does anyone know what a successful Crowdfunding Campaign looks like?  YES!
Gone are the days of novelty crowdfunding, where you could crowdfund a potato salad, your midlife crisis tattoo, or get strangers to buy you a laptop for your personal use. (all real campaigns – some successful – by the way).
As crowdfunding sites spring up and crowdfunding becomes more of an everyday occurrence, you have to really do your homework, produce a very solid product or service, and do a great job of convincing people it's a worthwhile idea. Businessloans.com states that "over 70% of the crowdfunding campaigns that meet or surpass their goal have most or all of the following:
A video introducing the product,
A distinct voice for written copy listing the product name, a project icon, graphics, logos,
A customer service system, a prototype, an accurate price estimate, photos of the product,
And a marketing strategy."
So, here are 9 characteristics of what a successful crowdfunding campaign looks like: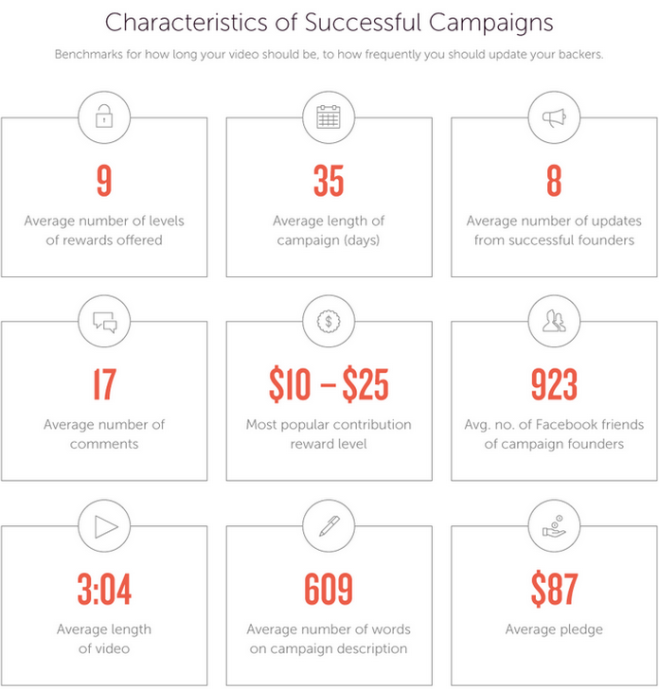 So, I've compiled all this information and my experience into a simple list of what to do to succeed at crowdfunding.  In other words, these are things I wish I'd known back then!
7 Steps to a Successful Crowdfunding Campaign
 Bring your own audience.
Don't start your campaign with 0 momentum. Sites like Kickstarter pick up on projects that have a lot of momentum and feature them, giving you additional exposure and dramatically increasing your chances of success. As seen in the charts above, more Facebook friends equals a higher success rate, with successful campaigns averaging 923 Facebook friends. Build a social following, (Facebook, Twitter, LinkedIn, etc.) and don't start your campaign without whipping them up into a frenzy!!!
Keep your goal as manageable as possible.
As the above chart shows, success rates decrease as the goal value increases. Keep things as compact and lean as possible while still achieving what you need to. Shed any fat you can before locking in a goal $ value.
Plan for (and try to facilitate) a short campaign.
Longer campaigns tend to fail more often. Inversely, failing campaigns tend to go on for longer, since they have unmet goals. As far as it's within your control, don't let your campaign drag on. Have each stage of the campaign planned out and implement your plans as efficiently as possible in order to maintain momentum. The average successful crowdfunding campaign lasts just 35 days.
Provide quality rewards/perks and well thought out tiers to encourage higher donations.
People who fund a crowdfunding campaign have (at least a little bit of) discretionary money. With well thought out reward levels and relevant, really compelling perks you can turn a $25 funder into a $100 funder. As I mentioned above, the average pledge on a successful campaign is $87. This is undoubtedly driven up by the 9 (on average for successful campaigns) levels/tiers of rewards offered and the $10-$25 (average again) value of the most popular rewards for contributors.
Communicate thoroughly.
The average successful campaign description is 609 words long. That's a pretty lengthy batch of content, but it's not too much to ask that you thoroughly describe something to the people who are going to pay for it! Crowdfunding isn't "set and forget" either. It's also clear that a video is important in communicating your vision, with an average play-time of 3:04 for successful campaigns.
Consider niche crowdfunding sites.
In addition to the really popular, multi industry crowdfunding sites, there are also niched options that cater to specific industries or products. If such a services exists within your niche it's worth considering. Weigh up the options carefully though, you don't want to be just another face in a crowd of similar looking people.
Be interactive.
On average, successful campaigners provide around 8 updates during the course of the campaign. (For the slow of math, that's about an update every 4-5 days over the course of a 35 day campaign.) An engaged community is hugely important. On average there are 17 comments listed per successful campaign, and you can bet that the majority of the conversation is actually going on elsewhere.
To find out more about my crowdfunding experience and others, click here to read Crowdfunding what is it? And, is it worth the time?
We love stories and would like to hear from you!
Obviously, there are no guarantees of success; however, if you do the above, your chances for success are improved.
Why not tell us about your own crowdfunding adventures? Please do so, either in the comments below, or by submitting a guest post to us. We review these posts carefully, and as long as your contribution adds something to the entrepreneurial community we'd be happy to feature it on our site with a link back to yours!